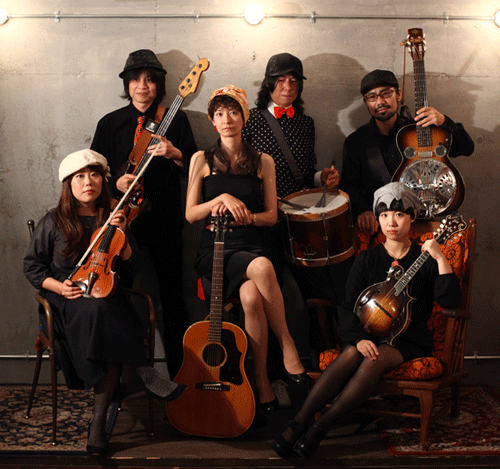 Wed - Mar 18
Japan Day (Austin, TX, USA)
venue Shiner's Saloon
Thur - Mar 19
SXSW Japan Nite Preview Show (Austin, TX, USA)
Fri - Mar 20
(Austin, TX, USA)
venue Flatstock stage (Austin Convention Center)
Sponsored by Santa Cruz Guitar Company
1:00pm–1:45pm
Fri - Mar 20
SXSW Japan Nite (Austin, TX, USA)
venue Elysium
7:20pm–1:00am
acts: Mahoshoji-ni-naritai, Samurai Dynamites, Pirates Canoe, The Fin, moumoon, QUORUM, TsuShiMaMire
Sun - Mar 22
Soul of a Musician (Austin, TX, USA)
W
HO

A

RE

T

HEY

?

Pirates Canoe is a sometimes sextet, sometimes trio Americana roots band who began performing together in the summer of 2009 in the Kansai area of Japan. While their individual musical tastes vary—rock, blues, bluegrass, Irish and American folk, funk, soul, pop—together they are magic.

The band's sound has a synergetic effect that's more than the sum of the parts—Elizabeth's mellow voice adds sorrow and sweetness, Sara's eclectic musical sense pushes boundaries, and Kanako's solid fiddle takes it to another dimension. When they play in their six-member "full-band" line-up, Kazuhiko insists on adding with his resophonic guitar only just what is needed, and Yossie and Jun's solid rhythm section keeps it all together.

They compose most of their own songs, add a few cover tunes and play at venues, bars and cafes all over Japan.
H
OW

D

ID

T

HEY

S

TART

?

Pirates Canoe came about when the three guys introduced Sara and Elizabeth. About that time, Sara happened to meet Kanako in a bar and, seeing her violin case, invited her along. Thinking back now, their meeting could be called fate. If Elizabeth hadn't happened to hear the guys playing in a small bar one night, she wouldn't have introduced herself and begged to sing for them, and if Sara hadn't had one too many beers, she may not have invited Kanako without even hearing her play!
W
HERE

C

AN

Y

OU

H

EAR

T

HEM

?

Apart from the many performances they are invited to, Pirates Canoe hosts a monthly show at Coffee House Jittoku, Japan's oldest and most respected live house. This monthly show, coined "Pirates Canoe's Hyokkori Party," features the full band sound and invites other talented guest musicians, including Tim Easton and Matt the Electrician from across the ocean. The three girls also play as a trio at other events and venues for a more acoustic and intimate sound.

Their albums are available at their shows, from their own label's online shop, on Bandcamp and CD Baby.

See

Discography

for more info.
W
HAT

H

AVE

T

HEY

D

ONE

S

O

F

AR

?

2012 saw them open for David Bromberg on his Japan tour, being featured in Shiseido Hanatsubaki's smartphone app, and introduced on the national NHK radio show "Lovely Music of the World," hosted by the Japanese world music guitar duo, "Gontiti."

2013 started off well for the band with their first ever North American tour which included several showcases at SXSW 2013, and opening for Jim Kweskin & Geoff Muldaur on their Japan tour. They were also selected as

MTV Iggy Artist of the Week

this year, with a featured online interview and performance.


"… Pirates Canoe has been lulling the masses with classy Americana a la Alison Krauss, the kind that gives you a pit in your stomach because it's like the heavens opened and bestoweth divine, majestic song." - MTV Iggy

"…Pirates Canoe, a Japanese three to six piece folk group … could give Appalachia's finest a run for their money with their ability to play bluegrass." - NBC Bay Area