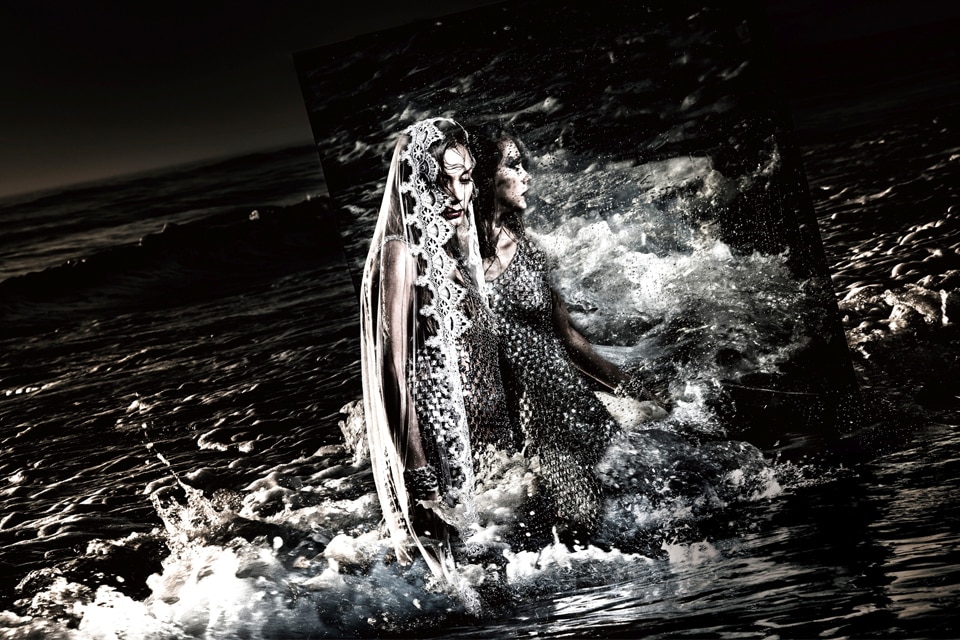 Anna Tsuchiya.
...is a multifaceted Japanese artist from Tokyo who is not only a popular musician as she is a singer and songwriter but is also an actress and model who made her debut in back in 1998. For those of you familiar with this talented woman you probably know of, or have watched the movie "
Kamikaze Girls
", a quirky film, but a huge hit on a global scale winning 8 awards in the film industry.
Tsuchiya
also won awards as an actress for her outstanding supporting role performance as
Ichigo "Ichiko" Shirayuri.
Tsuchiya
has acting roles in many productions since then including dramas and movies. The most current role in a Japanese movie titled "
Gonin Saga
" which will release in September 2015, where
Tsuchiya
will play the character
Asami Kikuchi
.
In keeping up with her musical talents during much activity on the acting front,
Tsuchiya
debuted as the vocalist of the rock band Spin Aqua in 2002 with fellow musician
K.A.Z.
from rock band
VAMPS
and
Oblivion Dust
for a short time and recently teamed up with
K.A.Z.
again with
Hyde
from
VAMPS
and
L'Arc-en-Ciel
'
s
project "
Halloween Party
".

Tsuchiya debuted as a solo artist with the album "Taste My Beat" in 2005 and later released a full length album titled "strip me? " containing the song "Rose" used as the opening theme to "Nana", a popular manga series. Capitalizing on the success of this release she took to the road and performed to sold out audiences on her national tour in Japan.Tsuchiya then landed herself on stage performing at Japan's largest music festival "Summer Sonic". In the same year while performing and modeling at "Tokyo Summer Collection in Paris", where French media crowned her "the Japanese Madonna" due to her edgy style.

As her popularity grew on the musical side of her career, Tsuchiya kept her hand in acting and took on the voice of Lindsay Lohan's character in the Japanese language version of the Disney film "Herbie Fully Loaded".
Moving in to the future
Tsuchiya
releases eighteen musical works including the successful albums,
"RULE", "NUDY SHOW "
,
"
Sugar Palm
" and "
Lucifer
". In 2015 she will releasing records and holding live shows to celebrate the 10th anniversary of her solo debut.
My JHouse Rocks recently had the opportunity to interview this incredibly talented artist after her performance atAnime Matsuri in Houston, Texas.

INTERVIEW
MJHR:
Thank you, Anna Tsuchiya, for taking time out of your busy schedule for this interview. Your performance at Anime Matsuri was amazing. It was an absolute pleasure meeting you in person, and you are even more radiant and beautiful in person.
MJHR:
-このインタビューのため、忙しい中スケジュールの時間を割いてくださって、ありがとうございました。アニメまつりでのあなたのパフォーマンスはすばらしいものでした。アンナさんは朗らかでそして美しく、お会いできて本当に感激しました
。
Anna: Thank you. I was also so happy to be a part of this wonderful event. I felt a great hospitality, and had so much fun every day, even though we use different languages.


Anna:
ありがとう。私も今回のイベントに参加できてとてもうれしかった。言葉は違えど、ファンも現地のスタッフにもとても良くしてもらって、毎日が楽しかったわ
MJHR
:
What skills/personal attributes have you found to be important for you becoming successful as an actress/musician?
MJHR:
ミュージシャン/女優として成功するために、貴方はどんなスキル(能力)が大切なことだと考えていますか?
Anna:
What I think is most important to this job, is a feeling of gratitude. I express a beauty of emotions though performing, music, photographs and all other artworks, and how people evaluate my work makes me pleased and even more grown up. So I always try not to forget to thank people and all the things around me.
Anna
:
この仕事は、人間の持つ感情の美しさ(喜怒哀楽)を音や写真、映
像、絵などで表現して、外部から色々な評価を得ることで喜びを得る仕事なので、私は人の心を大切にすること、人や全てのものに感謝すること、そういった 思いを持って表現していくことが大切だと考えています。
MJHR
:
Expanding upon acting, of all your film roles, what has been your favorite to perform and why? Also, is there a certain type of film genre, character, and/or role (example: director, producer, screenwriter) that you would like to do?
MJHR:
映画など演技のお仕事を拡大されていくにあたって、これまでのお仕事ではどのようなパフォーマンスがお好きだと感じましたか?理由とともにお聞かせください。
また、これからのお仕事で挑戦したい特定の映画ジャンルや特性、役割
(

例:ディレクター、プロデューサー、脚本など

)

はございますか?
Anna:
Well, every job is rewarding for me, but the music performance is the most enjoyable. Music makes me emotional, and that's the time I can really feel myself as I am.
Anna:
どんな仕事にもとてもやりがいを感じているけど、やっぱ り一番は音楽でのパフォーマンスが好き。音楽は本当の自分自身を
MJHR
:
Where do you usually gather songwriting inspiration?
MJHR:
作詞作曲のインスピレーションはいつもどのように集めるのですか?
Anna:
I don't normally do composing but...in the case of writing lyrics, mostly my own experiences have been affecting a lot. Also like films I watched sometimes inspires me as well.
Anna
:
私は作曲はしないけど、作詞に関しては今迄聞いてきたリスペクトする音楽の影響もあるけど、それよりも自分の人生で起きたことの経験や、見た映画とかからインスピレーションを受けることが多いと思う

。
MJHR
: What is the worst and best memorable live event you have performed at, and what made it memorable?
Anna:
これまでのライヴイベントの中で、
(

最高・最悪ともに

)

一番印象に残ったものについてお教えください。また、なぜそのライヴが印象に残ったのでしょうか?
Anna:
I remember at the end of last year, I had a Christmas live performance with about hundred gospel performers and it brought me a huge inspiration. It was different from any other rock performances I did in the past, and above all so much enjoyable.
Anna:
昨年末、品川教会で行ったゴスペルライブ。約100人くらいのゴスペル隊を率いてクリスマスライブをやったのだけど、今迄やってきたバンドスタイルのロックライブとは全く違うアプローチだったから、自分の新たな可能性の扉を開けることができた、と思った。 何よりも楽しかったし。
MJHR
:
On your latest single "Lucifer", Lena Katina of famous Russian pop group t.A.T.u. was a co-writer of the song, what was your experience working with her? Are there artists whom you would like to do collaboration with in the future?
MJHR:
最新シングル「
Lucifer

」では、ロシアの人気ポップグループ"

t.A.T.u

"のレナ・カティーナさんから楽曲提供されましたが、彼女とのお仕事はいかがでしたか?また、将来彼女のようにコラボレーションしたいと感じるアーティストはいらっしゃいますか?
Anna:
At first, actually I didn't know that it was Lena's work. I just picked up the song I thought the coolest and that was hers! Now I'm absolutely satisfied with how it came out.
As my next vision, the artist I desperately want to collaborate is Cyndi Lauper! She is my role model. I even went to the concert held in Japan and it was absolutely gorgeous.
Anna

:
初めはあれが Lenaの楽曲だと知らなくて、たくさんあるデモの中から最高にクールでカッコいい楽曲だと思って選んだら、それが彼女の楽曲だった。仕上がりもとても満足しています。今後コラボレーションしたいと思うアーティストは、とにかくシンディー・ローパー。彼女みたいなアーティストになりたいと思う私の憧れなの。前回来日したときももちろんライブに行ったんだけど、最高だった!
MJHR:
音楽シーンにおけるあなたの今後の見通しはいかがですか?
Anna:
Although people say a lot of things about music scene, I'm sure that music will never die, as long as we can be moved by entertainment.
Anna
:
シーンでは色々なことが言われているけど、人が感動する生き物である限り、音楽は絶対になくならないと思う。
MJHR
:
What inspires you to do what you do?
MJHR:
創作やパフォーマンスをする際、インスパイア(刺激)を受けるものはなんですか?
Anna:
There are of course, a lot of things well up from my mind, but I also give a great deal of thought to bringing in all the good ideas from other artists that I respect.
Anna

:
もちろん自分の中から湧き出てくるものもあるけど、今迄憧れて、リスペクトしてきたアーティスト達のパフォーマンスの良い部分を取り入れたい、という思いも強いです。
MJHR
:
What are your feelings of your recent performance at Anime Matsuri in Texas, your favorite memories visiting Houston, and will you return to perform again in the near future?
MJHR:
テキサスのアニメ祭り、そしてヒューストン訪問はいかがでしたか?また、近い将来再びこちらでパフォーマンスをしていただけますか?
Anna:
To be honest, performing in front of fans from Houston made me a bit nervous, but as it starts I had so much fun! On the last day, I managed to have a day off and made the most of it like going shopping. Some of the band members went to NASA as well. Many thanks to my fans and the staff's of Houston, and if there is any other chance to be invited, I'll be more than happy to come over.
Anna:
ヒューストンのファンを前にライブをするということは、正直緊張したけど、ライブが始まったらみんなのノリがとても良くて楽しくパフォーマンスできたわ!最終日にはオフもいただけて、ヒューストンの街でショッピングしたり、バンドメンバーはNASAに遊びに行ったりして満喫しました。ヒューストンのファンとイベントスタッフにはとても感謝しているし、もしまた呼んでもらえるのであれば喜んで伺いたい。
MJHR
: If your fans were to visit Japan for the first time, and you were chosen to be their guide, where would you take them, what would you want them to see, what food would you want them to try, and what is the most important thing they should know about Japan?
MJHR:
もしあなたのファンが初めて来日し、あなたがガイドを務めるとしたら、どのような場所へ彼ら/彼女らを連れて行き、何を見せてあげたいと思いますか?食べさせてあげたい食べ物などもありましたらお教えください。そして、日本について「これだけは知っておいてほしい!」と感じる知識などはありますか?
Anna:
I would probably take them to places to come in contact with the traditional Japanese culture and beauty like the Kimono in Kyoto and Asakusa Ryokan's. Underground (train stations you can find) Izakaya, which is a Japanese pub/tavern, would also be a good place to take I think, and in there they should try Motsu Nikomi ( a street food -stewed pork or beef visceral) it's delicious and it goes well with sake!
Anna:
日本の伝統の文化や美を見せてあげたいので、着物、京都、浅草とかそういった日本らしい伝統に触れられる場所や物を見せてあげたいな。あとちょっとアンダーグラウンドだけど、日本の「居酒屋」にも連れて行ってあげたい。食べさせたいものは「モツ煮込み」。牛、豚、鶏とかの内臓を煮込んだ料理でとっても美味しいの。お酒にもあうしね(笑)
MJHR:
You just released a new cover album (April 22nd), what are your thoughts in deciding which song and artist to cover, and is there an artist/song whom you would like to try in the future?
MJHR:
カバー楽曲もすばらしいアンナさんですが、カバーするアーティストや楽曲などを選ぶ際は、どのようなことをお考えになりましたか?また、将来カバーに挑戦したいと感じるアーティストや楽曲があればお教えください。
Anna:
I don't really think about genres when I chose songs. How they go with my voice is the most important thing for me. The reason why I'm not particular about genres is because I like to challenge a variety of music to enhance the expressive power of each song chosen.
Anna:
ジャンルにあまりこだわりはなくて、自分の声質にあうものを選んでます。ジャンルにこだわりがないのは、自分の表現力を高めるために色々な楽曲にチャレンジしたいという思いがあるから
MJHR: You have a great fan following outside of Japan. You are known for really bringing a lot of positive energy and feeling at your live events. For those who have not been able to experience it, can you please explain to the readers what they can look forward to seeing at a future Anna Tsuchiya performance?


MJHR:
海外にもたくさんのファンがいらっしゃる土屋アンナさんのライヴイベントは、本当にたくさんのポジティブなエネルギーと感情を与えてくださいます。まだそのエネルギーを経験できていないファンの方、そして読者の方へ、今後の予定を教えてください。
Anna:
As ever I will keep creating good music, so if possible please support me and look forward to my upcoming works! I'm also planning to go overseas again.
Anna:
今後も新しい音楽、新しい表現を伝えていきたいと思っているので応援してください。海外にももちろん行きたいと思っているので、行ったときには快く迎えてほしいです。
MJHR:
読者の方やあなたの大ファンの方々からいくつかの質問をお預かりしております:
Criss
:
How were you able to juggle motherhood in between modeling and your career as an entertainer?
Criss:
モデルやエンターテイナーとしてのキャリアと、母親としての役割はどのように両立させていましたか?
Anna:
I think there is no need to make a separation on what I am. Don't try too hard to get along with everything, all you need to do is to do your best on what you can do at the moment. Then you will make it!
Anna:
どちらも私、土屋アンナであり、分ける必要はないと考えています。両立させなきゃ、と無理に頑張ろうとせず、どちらの事もできる限りのことを、とにかく一所懸命やる。これしかないと思います。
Asami
:
You are so beautiful, what is your secret to maintain your youthful beauty? And what part of your job as entertainer do you enjoy or prefer most?
Asami:
あなたは本当にお綺麗だと思うのですが、美しさを維持する秘訣はなんですか?また、エンターテイナーとしてはどのようなお仕事がお好きですか?
Anna:
Keep smiling! is the best thing for beauty. As long as you keep smiling, happiness comes to you automatically.
Anna:
美しさの維持に関しては、とにかくよく笑う。笑顔には幸せが寄ってくるし、幸せだと美しくいられる。
MJHR
:
In conclusion, do you have any words to tell our readers and your fans world wide?
MJHR:
最後に、この場で世界中の読者とあなたのファンに伝えたいことがありましたら是非お教えください。
Anna:
Thank you for reading this interview. As everyone knows, 'Music has no borders'. I always welcome the challenge for myself to perform overseas. So if there's any chance in the future that I have the opportunity to perform in your country, please welcome me! YOROSHIKU!
Anna:
インタビューを読んでくれてありがとう。私は音楽に国境はないと考えているので、今後も色々な国で挑戦したいな、という気持ちがあります。あなたの国に歌いに行ったらぜひ快く迎えて欲しいです。呼露死苦!
MJHR:
Once again, thank you for allowing My JHouse Rocks this interview with you.
MJHR:
改めまして、この度はMy JHouse Rocksのインタビューをお受けくださりありがとうございました。
Anna:
Thank you, too. It's my pleasure.
Links for Anna:
Interview/Photography: Micheal Herrera
Press Op's My JHouse Rocks Promotions Inc.